Fenerbahce Betray Stephen Appiah
January 30th, 2008 | by: Inara |

View Comments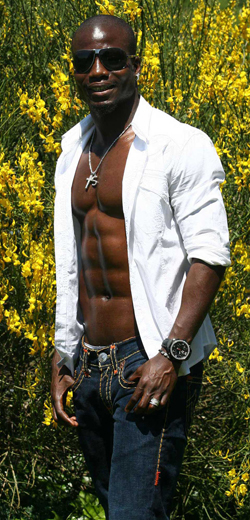 Stephen Appiah is pissed off.
He's so pissed that not only is he thinking about leaving his club, but he's gone public with his complaints. And as we all know, Appiah isn't the complaining type. He's the sort of guy who will smile through an earthquake, he's that composed.
Remember a few weeks ago when there was all that confusion about Appiah's contract? Well, it turns out that there is more to that story than a simple misunderstanding. While Fenerbahce don't in fact want to suspend Appiah's contract, they've been doing evil in several other ways.
In the winter of 2007, Appiah sustained an injury to his knee, but at the request of his club, held off his surgery until the end of the season. Instead, he continued playing with the aid of painkillers and injections. He finally got his surgery that May. However, two months after that, he again started feeling pain in his knee, this time accompanied by breathing difficulties.
Fenerbahce diagnosed this as asthma.
The club continued treating him for asthma for the next several months though the treatments were having no affect. Appiah continued playing during this time. But in December, going to Italian doctors this time, Appiah discovered the real reason for his pain: after his surgery last May, he had developed blood clots in his left leg, which later became microembolisms. Appiah immediately switched his medical care out of the club and into the hands of Italian doctors.
That's pretty evil, right? It is for this reason that Appiah missed out on the chance to captain his national team in his homeland during the most prestigious football tournament for Africans. If Appiah had gotten treatment for this last summer, he would have been perfectly fine by now. But it's not just about the football. Fenerbahce's woeful misdiagnosis not only endangered Appiah's playing career but his life. Blood clots are very serious and have results in many deaths.
But wait. Fenerbahce wasn't done with screwing up Appiah's life. So while Appiah was in Ghana for the ACN, his club tried to freeze his contract, revealed private medical information to the press, and attempted to exercise an extension option on his current contract without his consent.
WHAT??
Talk about stabbing a guy in the back. Appiah got injured on Fenerbahce's behalf, played through his pain, led them to the title last year. And this is how his club is rewarding him?
Though the healing process is going well, Appiah hasn't decided what his response to Fenerbahce will be though it seems very unlikely that he will renew his contract. While he adores the club and the fans, he no longer trusts the management. He also hasn't ruled out legal action in relation to the misdiagnosis.
Subscribe

Ghana World Cup Team Blog RSS Feed

Share
blog comments powered by Disqus