AFCON 2012 Draw is out minus Togo
February 20th, 2010 | by: Gary |

Comments Off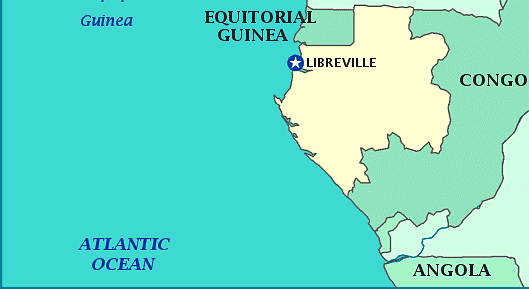 (The spelling in the pic should be 'Equatorial', not what they've written there. Blame Google for allowing it.)
The draw for the 2012 Orange Africa Cup of Nations which will be staged by Equatorial Guinea and Gabon was conducted in Lubumbashi today by the Confederation for African Football (CAF).
Forty-four teams will take part in the qualifying series that begins in September. But only 14 will book a berth to the continental showpiece.
Equatorial Guinea and Gabon qualify automatically as co-hosts. The sides have been put into 11 groups of four. They'll each play each other in a round robin scheme. The winners of each group will qualify automatically – the three best second placed teams will be in the AFCON.
The groups in full:
Group A: Mali, Cape Verde, Zimbabwe, Liberia
Group B: Nigeria, Guinea, Ethiopia, Madagascar
Group C: Zambia, Mozambique, Libya, Comoros
Group D: Algeria, Morocco, Tanzania, Central Africa Republic
Group E: Cameroon, Senegal, Congo DR, Mauritius
Group F: Burkina Faso, Gambia, Namibia, Mauritania [Update: later withdrew]
Group G: Egypt, South Africa, Sierra Leone, Niger
Group H: Cote d'Ivoire, Benin, Rwanda, Burundi
Group I: Ghana, Congo, Sudan, Swaziland
Group J: Angola, Uganda, Kenya, Guinea-Bissau
Group K: Tunisia, Malawi, Chad, Botswana
I'm sure you noticed there is no Togo? That's because the Court of Arbitration for Sport (CAS) will soon come to a (positive, I hope) decision on whether it will uphold CAF's ban of Togo from the next two editions of the competition. If CAS should rule in Togo's favour in the case, CAF has confirmed that there is no material obstacle for a new draw to take place before qualifying gets underway.
Update August 31, 2010:
Togo was later added by Caf to Group K, making a five-team group. That odd number meant that the group started qualifiers earlier than all the others.
Mauritania also withdrew, granting the three other members of Group F byes whenever they had to play with them.
Subscribe

Ghana World Cup Team Blog RSS Feed

Share
Comments are closed