Ghana coach Milovan Rajevac staying on a new 4-year deal. As expected.
July 28th, 2010 | by: Gary |

View Comments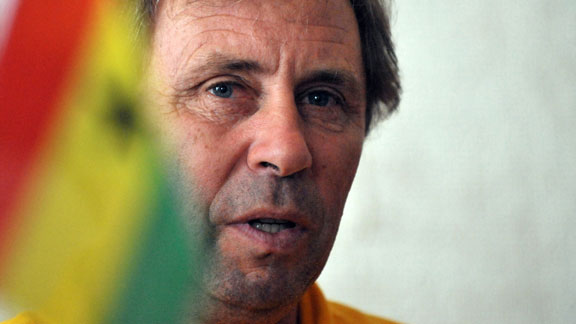 Many different sources are reporting that Black Stars coach will be staying for the next four years at least. I would have been surprised if he had left, frankly.
The GFA has apparently signed a four-year deal with Milovan Rajevac. The long-term objective: of getting the team to a better finish in the next World Cup in Brazil.
The Serbian's contract was due to run out soon and though it's been signed, the finer aspects of the deal are still being ironed.
On the ground, Milo is to return to the job in a fortnight to prepare the team for a friendly with Bafana Bafana, who hosted the World Cup. It will be in Johannesburg.
No monetary details are known – as yet.
Just a confirmation
During the immediate post World Cup press conference at Ghana FA's headquarters (and before that, the hosting of team at the Presidency days after the exit from the tournament) Milovan didn't look like someone who wanted to leave.
He had made too many statements reiterating his desire to remain as the Ghana boss. So there you go, this is just a confirmation of the widely held belief that he would want to stay. Plus, let's admit it, he's in charge of a side that has got so much hunger and drive do win more trophies.
The clearest indication that he would stay came a few days ago when there were rumours that he would coach his native Serbia. A statement from Milo's people said:
"Mr Rajevac is a man of honour and will not renege on the promises he has made to the Ghana Football Association.
"Even though Rajevac has not extended his contract with Ghana yet, his words to the Ghana FA over his new contract is stronger than his signature."
Coming up are many exciting times for the usually unreadable Milovan – and national team in general. And yes, when I had the interview with John Paintsil a few weeks ago, he seemed almost certain that Milovan would stay. Before then, Sulley Muntari had also wanted the guy to stay and as I'm told, so did most of the backroom staff.
So then, good deal all round, in my opinion.
Here's to better times for the BaGhana BaGhana!
Subscribe

Ghana World Cup Team Blog RSS Feed

Share
blog comments powered by Disqus