Kevin-Prince Boateng: the interview
May 8th, 2012 | by: Gary |

Comments Off
Kevin-Prince Boateng.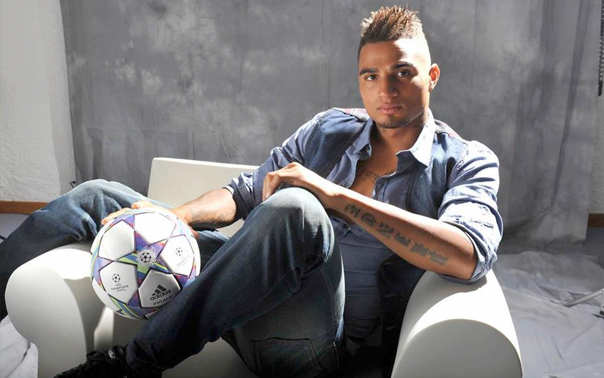 A man who divides opinion this side of town like he makes it in Italy. He was interviewed by Italian publication, "So Foot". He describes his Berlin youth, the relationship with his brother, Jerome, along with Juergen Klopp at Borussia Dortmund and Massimiliano Allegri. Boateng also discussed his integration at AC Milan where he had special observations about Rino Gattuso and Zlatan Ibrahimovic. Lastly, Boateng described his off-the-pitch relationship with Milan fans and a concern that supporters had about his girlfriend, Melissa Satta.
Thanks for translation from Italian by my friend Steve Amoia (Twitter here and website here).
"Ghetto Kid"
"They call me 'Ghetto Kid' because I come from a neighborhood in Berlin that the Germans consider to be a ghetto. The word ghetto is perhaps over the top. I don't know anything that resembles it. It's not like the Brazilian favelas (slums), but is a difficult place. I come from there, but I got out. There was a lot of crime and drug dealers. I once saw that they shot someone in front of me. But I didn't have an unhappy childhood even if at times, the refrigerator was empty. In those times, I had to go to eat at my friends' houses. For many, when they live without things, they become aggressive because they think they don't deserve the reality they live in.
I have a lot of friends who ended up in jail and many who were stabbed. The best example is my older brother who could have become a footballer but he threw it all away. It's been my luck because I was able to transfer my anger to something positive of which I'm proud. I hope to become a hero for the people who still live there."
On Jerome Boateng
"We talk every day. We're good friends even if there is a certain distance seeing that we didn't wake up every morning together when we were children. We had a different mentality because we grew up in different environments."
His father, on the other hand, Boateng only saw about fifteen times in his life:
"He wasn't there when at certain times when I would have needed for him to at least tell me what I could or couldn't do."
On Juergen Klopp and Massimiliano Allegri
"In training, he blamed me and only let me play ten games. But with him, I learned how to place my shots on target."
Even with Massimiliano Allegri (his manager at AC Milan), Boateng is getting on well:
"He can even come to me and say that I am a cretin if I miss a goal-scoring chance. I would laugh because I'd agree with him."
On his integration at AC Milan
At Milan, the Ghanaian international has perfectly integrated because, "At these levels, respect means something. What you show and what you receive in return. At the start, I made a boatload of tackles. Even against the superstars but always respecting the player, and nobody said a word to me. It's here that I learned how to tackle, And when you make one, the people here cheer as if you scored a goal."
On Rino Gattuso and Zlatan Ibrahimovic
"Gattuso has an incredible way of being. I admire him because when he gets up in the morning, he has the desire to play, run, take on anyone and I ask myself where does all of this energy come from? Ibrahimovic is the same. He's so strong that he could also smoke a cigarette before scoring a goal."
His Relationship with Milan fans and Melissa Satta

"The people here love me. When I go and order carry-out meals, it takes me an hour. I couldn't ever send anyone in my place. I think that people appreciate me because I'm just like they would like me to be. They can approach and talk to me. At times, it's stressful, but I like it. I speak five languages: English, German, Italian, Turkish and I understand Arabic and French.
I've never been an animal in the least. The stadium is a special place. People expect that I give everything to win. And it makes your head spin when in the end, you feel like a gladiator."
His reputation as a gladiator follows him under the magnifying glass. And those on Twitter who ask him not to make love anymore with his girlfriend, Melissa Satta, to avoid getting injured. He responds that they are stupid things to say, because otherwise, "All footballers would have to be injured."
My Facebook page is also this way.
This was first published on Beyond the Pitch .
Subscribe

Ghana World Cup Team Blog RSS Feed

Share
Comments are closed