Korea 2-1 Ghana review: VIDEO + match report + player ratings
June 7th, 2011 | by: Gary |

Comments Off
WHAT: International Friendly
WHO: South Korea 2-1 Ghana
(Ji Don Won 12′, Ka Ja-cheol 92′; Gyan 63)
WHERE: Jeonju World Cup Stadium
Kingson's Killing Konfidence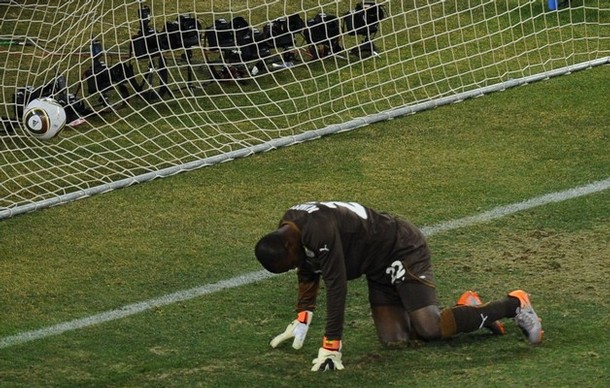 Lineups
South Korea: Jung Sung-ryeong, Kim Young-kwon (Park Won-jae, 88), Lee Jung-soo, Hong Jeong-ho, Cha Du-ri (Kim Jae-sung, 75 ), Ki Sung-yong, Lee Yong-rae, Kim Jung-woo (Koo Ja-cheol, 60), Lee Chung-yong (Lee Keun-ho, 53), Park Chu-young (Nam Tae-hee, 81), Ji Dong-won.
Ghana: Richard Kingson, John Pantsil, Daniel Opare (David Addy, 53), Jonathan Mensah, Isaac Vorsah, Anthony Annan, Agyemang Badu (Lee Addy, 87), Kwadwo Asamoah (Dominic Adiyiah, 56), Opoku Agyemang (Emmanuel Clottey, 74) Sulley Muntari (Derek Boateng, 63), Asamoah Gyan.
Summary

Just like I said in the match preview, Korea came out with their typical European system that, coupled with their speed, left Ghana in a dizzying state for the greater part of the first. The Stars had precisely four good chances to Korea's eight. Goals from Ji Dong-won and Koo Ja-cheol gave the Asians victory.
One of those first half chances was a penalty, which Asamoah Gyan placed into Jung Sung-ryeong's arms. Possession ended 62% – 38%.
In the second half, the Sunderland striker made amends with a good hit that typified his "hit-and-miss" reputation. Coach Stevanovic, true to his word, allowed the team's fringe players some running time.
Special shout-outs go to the veritable Richard Kingson, who made up to three worrying mistakes. In the first half, Korea's Ki Sung-yuen spotted Kingson off his line from behind the half-way line and nearly chipped him. Sung-yuen missed by inches. In the 74th minute, Kingson bundled what should have been a routine save by rashly coming out of his posts and causing near-havoc.
And then the goal. Just as the fourth official raised his electronic board to signal 2 minutes of time added, a final Korean surge down the right saw a cross beat Paintsil. It reached Ji Won, whose header was enough to Kingson to be caught. Instead, he parried it into the path of Ja-cheol, who could not miss from 2 yards.
After the Congo game, he had said: "I don't want to talk about it but I was so sad and up until now. It's part of the game but I have to sacrifice a few things and look forward to the future."

What's the excuse this time, Richard? Or do we wait for Gomes-esque things to happen? Sometimes when the applause is loudest, you take a bow. Otherwise, you'll be Anelka-d. Or worse, Shehata'd.
Plavi has lost his first game in charge of Ghana. It was not beyond redemption.
VIDEO HIGHLIGHTS
Ratings

Richard Kingson – 4/10 His job is to grab leather balls, not air balls. He caused both goals, the first when a corner came in and the ball went through his hands after a Ji header. In short, the veteran is causing the team too many errors and despite the well-known notion that keepers get better with age, the Benjamin Button effect is happening to our dear number 22.
Daniel Opare – 7/10 Mammoth showing down the left in the first, where his link-up play with Muntari vastly improved from that of the Congo game. Easily one of the best players while he was on.
Isaac Vorsah – 7/10 Calm and assured in the face of the melee of fast Koreans around him. You'd have thought the Koreans would have avoided high balls into Ghana's defence while Big Izzy was there, but they didn't. He dealt with them assuredly. Pity the final cross that led to the goal was above him.
Jonathan Mensah – 7/10 Showed why he's John's natural heir at centre back. Little went past him. He man-marked Ji most of the time, shifting to zonal marking upon Plavi's instruction (it seemed).
John Paintsil – 6/10 Another experienced showing from the Fulham man. Now that Martin Jol is the new boss, he may see his career revived at the Craven Cottage if they were watching today's game. Ghana's few threats down the right came from his crosses and forays, where he exploited Cha Du-ri's clear lack of playing time well.
Anthony Annan – 7/10 Handled the holding midfield role creditably, except his lack of speed exposed Ghana for portions of the second half, especially in the brief period Agyemang-Badu went off.
Emmanuel Agyemang-Badu – 8/10 My man of the match for Ghana, again. After getting his debut last Friday, he anchored the middle very well. At times, he switched with Annan and Asamoah as necessary. Udinese is certainly turning him into a utility player. He also made some incursions into the Korean half and took some (predictably wayward) shots.
Sulley Muntari – 7/10 Remarkably good game for him. He had spells where the Koreans circled him with the quick, triangular passes while they went forward but he recovered quickly. He started tiring at the beginning of the second half and needed help from Kwadwo in shoring up the middle.
Kwadwo Asamoah – 6/10 Credit to the Koreans, he was forced to play a deeper role than he'd have liked, getting into defensive areas to help stymie the Asians. He found Ji Won and Chu young hard to deal with but his distribution was on point. Pity he did not have players to convert his balls.
Opoku Agyemang – 7/10 Paired well with Paintsil on the right side of things. Cut in to help the two Asamoahs, especially in the first half when the team was generally disjointed. Key role was to run down the Korean machinery with his speed, which he did well. He forced many throw-ins which broke up their rhythm.
Asamoah Gyan – 6/10 The goal gives him a bonus point, although he missed a penalty. Typically run the channels and worked hard all over the pitch. This played into the Koreans' hands, as he was sometimes not on point for Kwadwo's through-balls. Still, we need to work on those penalty conversions…
And the subs:
Derek Boateng – 6/10 Spirited and combative performance from the Getafe man. In fairness to him, he should have started. His introduction saw a combo of tackling and movement to track down stray balls
David Addy – 4/10 Again, he's giving Plavi more reason to pick Opare over him. Attacking is not his job, but when he decides to go forward, then his reaction should be equally sharp. It wasnt. 4/10 for all of them
Dominic Adiyiah – 4/10 Disappointing. Had little impact in a game suited to his speedy style.
Coach Goran Stevanovic – 5/10: Again, his starting XI left something to be desired, as the fast Koreans should have been marked with fast players. Derek Boateng could have started this one, because his creativity is key to unlocking the closed system Korea play. Kingson should, somehow, not have started. Friendlies need to be used to test the young keepers. Sooner or later, Kingson will leave. A generally disappointing tactical game altogether.
Follow me for more African football updates on twitter: @garyalsmith
Subscribe

Ghana World Cup Team Blog RSS Feed

Share
Comments are closed