Milovan Rajevac's scoop: the inside story of why the inside story was pulled down.
September 11th, 2010 | by: Gary |

Comments Off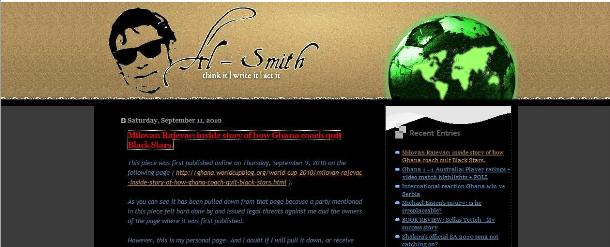 On September 9, 2010 [this past Thursday] I posted a piece on this page with the title Milovan Rajevac: Inside Story of How Ghana Coach Quit Black Stars. It was written by Christopher Opoku.
If you do not know what I am talking about, I have re-posted the same piece [and a brief intro] on my own personal blog: click here.
Twenty-four hours after the article was here, it vanished from this page. Many have asked questions and after a bit of thought, I've decided to make the reason open here.
The article alleged that Virtus International is the owner of one of the more popular footy websites in Ghana, called Ghanasoccernet.
Apparently, the higher-ups at the said website thought this, and other statements, were inaccurate and even 'falsehoods'. They so wrote to the owners of WCB & the Offside, threatening legal action against this site and myself.
It was not worth the trouble and so, the article was pulled down. That said, the piece was published in Ghana's biggest sports newspaper – Graphic Sports – a day after it was put on here. I'm interested in seeing if the guys at said website can take the paper on as well. If they don't, then we'll know what's what.
In the meantime, Ghanaian football lives on. There'll be more updates as they come.
That's that. Till then.
Follow me on twitter: @garyalsmith
Subscribe

Ghana World Cup Team Blog RSS Feed

Share
Comments are closed